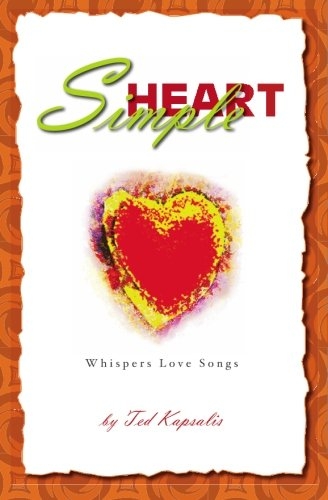 SIMPLE HEART
WHISPERING LOVE SONGS
Published in 2005

*********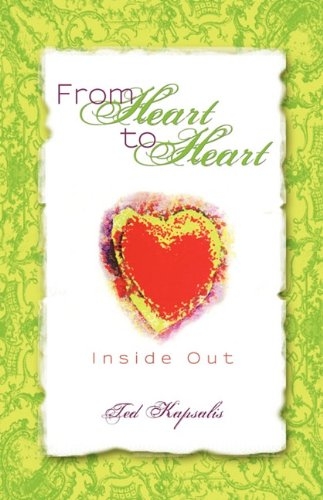 FROM HEART TO HEART
INSIDE OUT
Published in 2010

*********




"TRIPLE HEART"
No Hidden Emotions
Published in 2012

********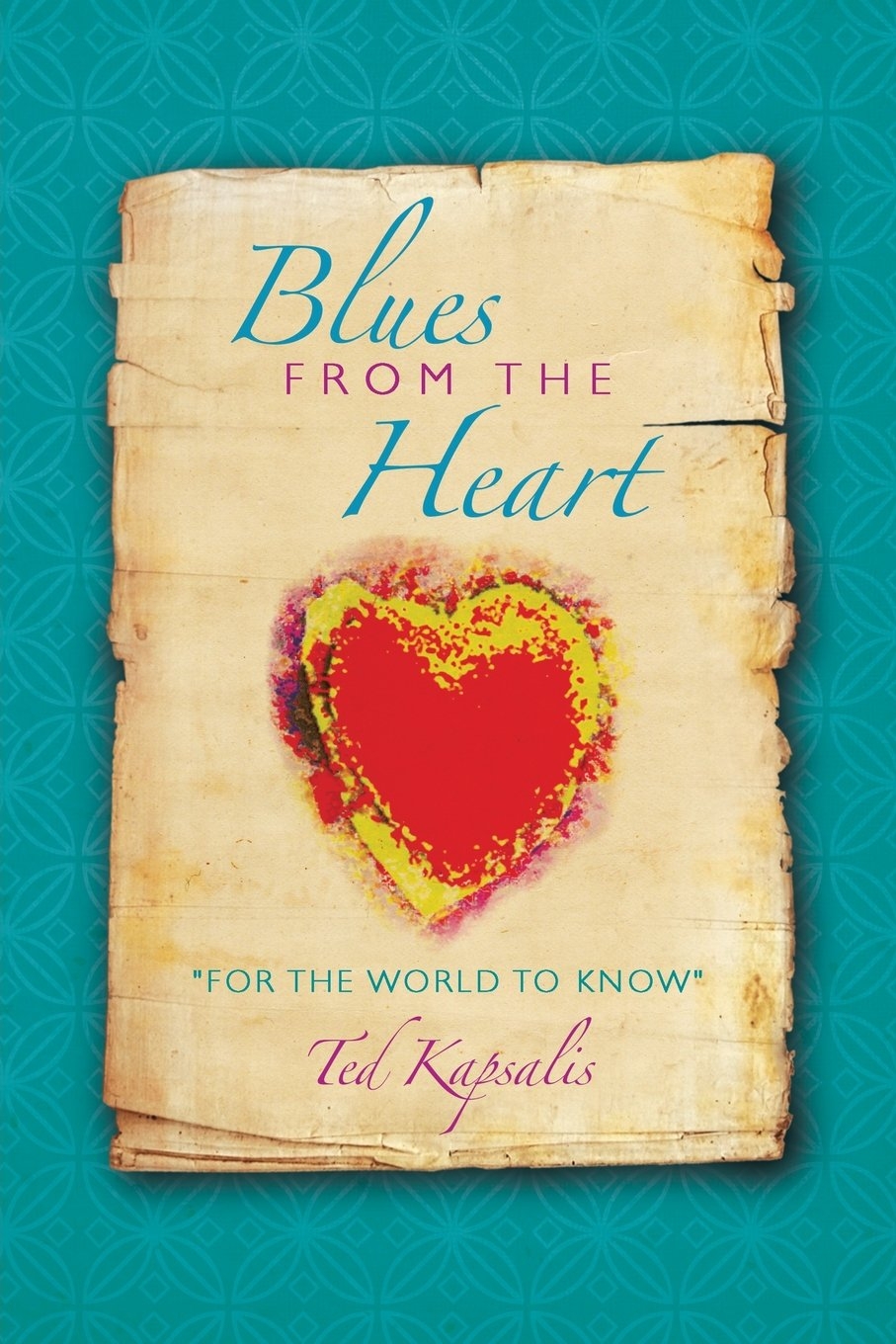 BLUES FROM THE HEART
FOR THE WORLD TO KNOW
Published in 2014

*********

THE HALF Horizon
By Ellie Kapsalis
Published 2015
ďTHE HALF HORIZONĒ is a compilation of poems of the many facets, endeavors, bliss, and sorrows of life, in which Kapsalis strives in delivering a connection between one's heart, soul, and mind. Kapsalis is also a musician, both a guitarist and pianist, who embraces her Greek/Chinese heritage.

******
Where is your heart?
Sometimes the days
Get down on me,
Sometimes my soul
Is dying on me.
We made mistakes;
We both agree,
I know it was not easy
For you and me.
I shut my eyes
I think of yesterday,
Oh, itís hard for my heart
To live this way.
Where is your heart?
I want it back.
My heart is calling
Without you I am dead.
It feels like
Iím going crazy,
My heart is craving
You were amazing.
Just thinking of you
God only knows,
The high and lows
of my heartís sorrows.

Copyright@2018
Your eyes were born
There isn't a day
That passes by,
Without a dark cloud
Roving in the sky.
My world comes
Crushing down,
In loneliness my spirit
Nowhere to be found.
There isn't a night
Before falling asleep,
Without shedding a tear
Even when I dream.

Your eyes were born
To melt a heart of ice,
And bright with your smiles
In darkness the skies.
There isn't a song I hear
Not to think of you
There isn't a star in the sky.
I haven't named after you
When you lose your love
Life has no meaning
Itís true isnít lying
My heart never stops crying.
Copyright@2018
Dear visitor,

I thank you very much in advance for your visit in my page www.poeticme.com Just for being here testifies,
that you have more than a passing interesting
in the achievement of dreams in your life.
It says to me that deep in you, youíre empathetic in poetry,
where the harmony of thought and heart
brings in the light some of most nostalgic and enjoyable
moments in life.
Therefore, if youíre in search for simple,
municipal and honest poetry that emanates from a simple heart,
then www.poeticme.com it is your page.
Sincerely,
Ted Kapsalis
__________________

"The world would be
a much safer place to live,
if it was governed by a poet"!
By Ted Kapsalis

A Distinguished Member
International Society of Poets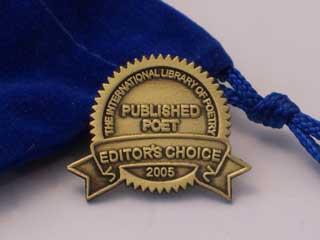 "The Editors of The International Library of Poetry
is thrilled to inform you that your poetry was bestowed
the prestigious Editor's Choice Award because of your artistic
accomplishments and unique perspective--characteristics found
in the most noteworthy poetic works."
December, 2005

*****

POETS AWARD
July 22, 2007

Given for Outstanding
Achievement In Poetry By
The International Society Of Poets

*****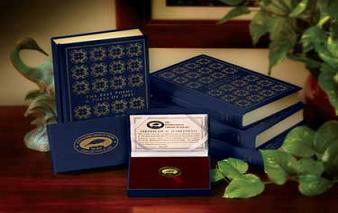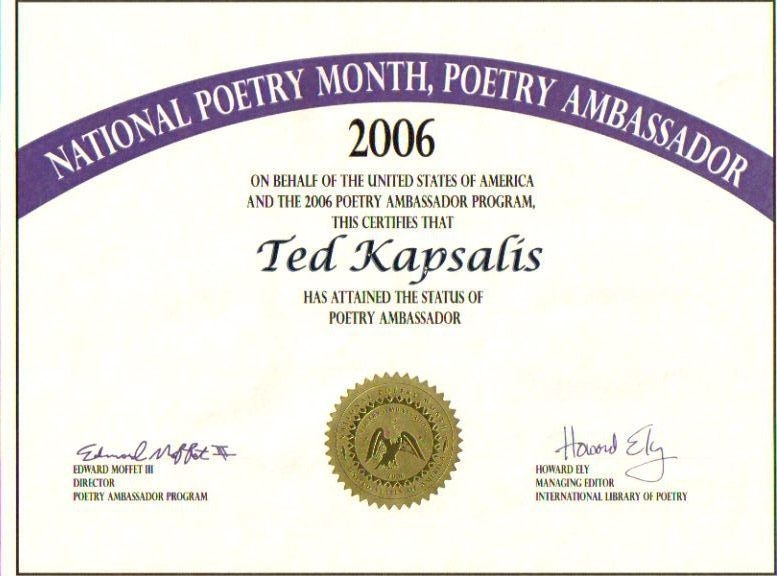 In recognition of your poetic achievement, you are now a member
of an exclusive group of the "Best Poets" from all around the world.
The International Society of Poets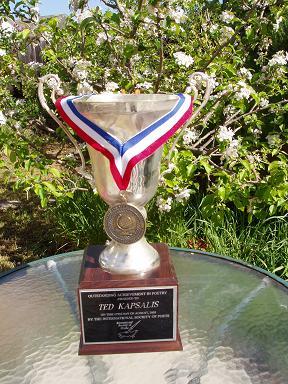 From My Newly Released Book
"Simple Heart" Whispers Love Songs!
Review
By Ellen Tanner March
New York Best Seller Author

Anyone who has has ever loved - and loved well - will find
something to appreciate in Ted Kapsalis' book of poems, Simple Heart.
Sensual love has inspired poets throughout time, and Kapsalis has a gift
for evoking the delights of such love in lively, accessible language.
Here we are told of the warmth of a smile, the thrill of a kiss,
the sensuous caress not only of touch but of words sweetly expressed,
and the yearning of a simple, loving heart:
"Unselfishly tonight I'll unlock the secrets/the devotion of my love/as the
world is watching/my heart shining like a star."

But Kapsalis' simple heart is an unguarded one, too,
and like so many lovers before him he has known his share of betrayal and loss.
The pain is there in words edged with raw emotion, as
"with her lying eyes...she darkens my dreams of paradise".
Or of hopelessness, as he laments in the poem Tired of Running:
"Good things it's dark. What am I gonna do/when the light comes?"

Simple, honest and evocative, this is poetry that speaks to the heart,
from the heart.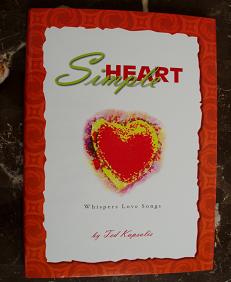 Published by www.booksurge.com

To order click here: www.booksurge.com/search.php3
(under search title type Simple Heart)
Copyright 2005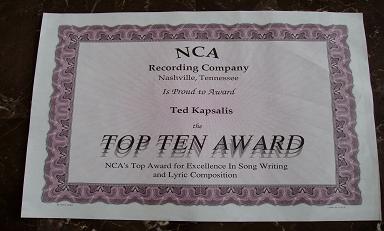 "Love is a disease you can't "catch" without being lovingly exposed"!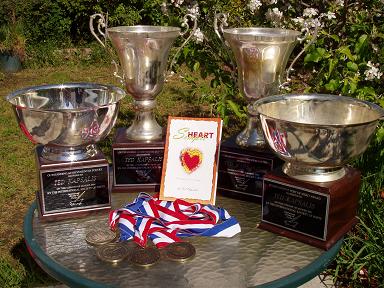 "The heart is happiest when it beats for others"!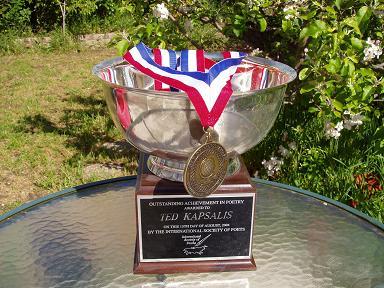 "Love may be blind but it seems to find it's way around"!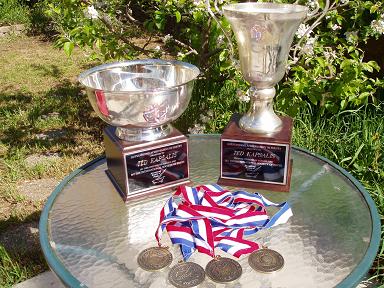 "Money can build a house, but it takes love to make it a home"!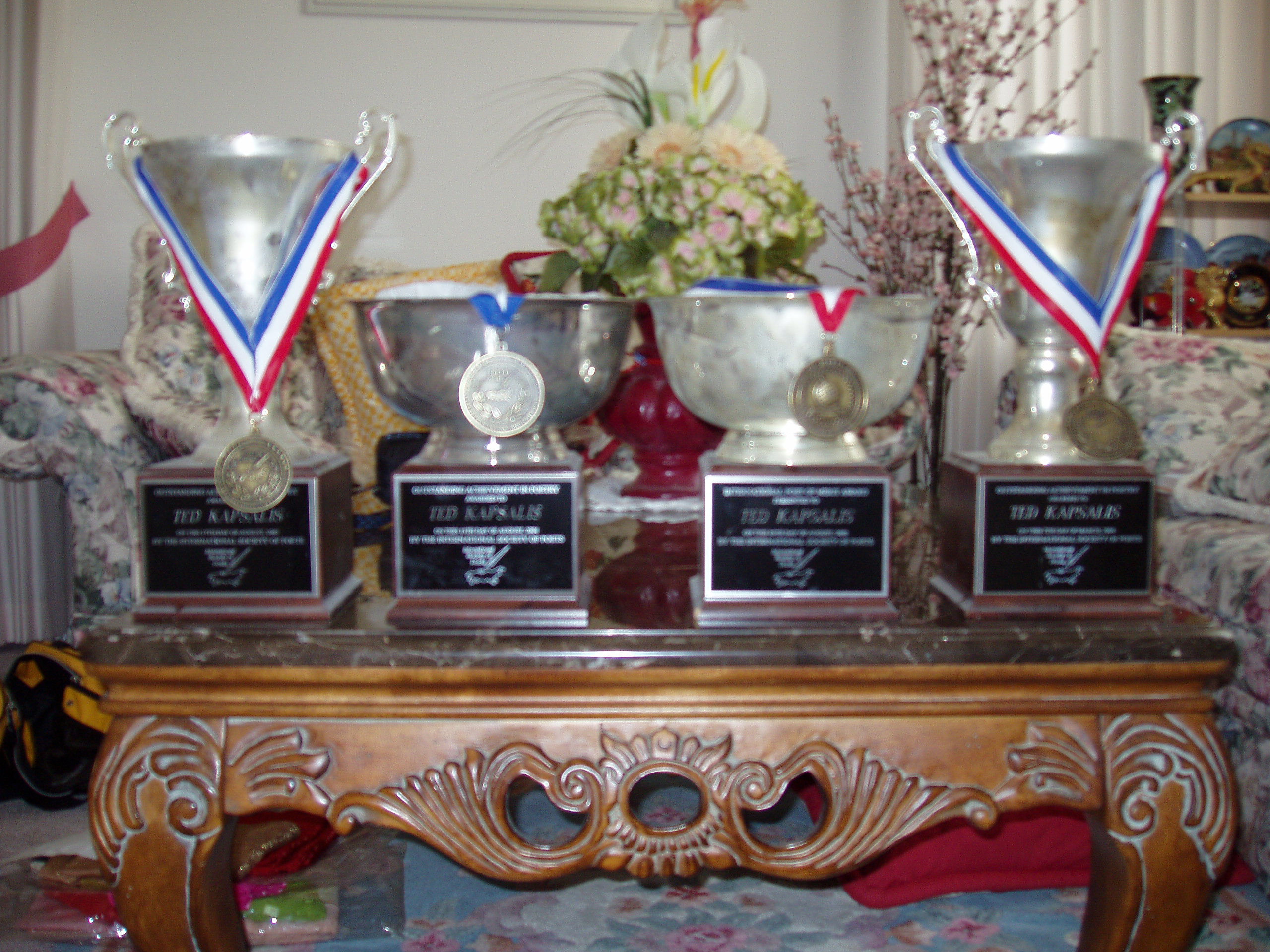 "True love knocks the door of the heart only once"!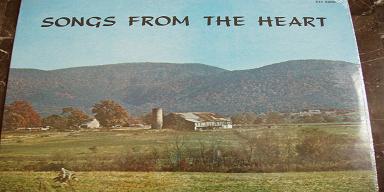 "Love is sharing a part of yourself with other"!